Our mission is to promote, preserve, and perpetuate Hawaiian music and hula by celebrating the achievements of significant individuals and groups.
Step 1
"We" are all of you who are members, and have said, with your yearly donation of dues, "YES! I want to help celebrate the achievements of composers, singers and performers of traditional Hawaiian music by providing exhibits, performances and instruction for current and future generations".
Step 2
"We" are a Board of twelve Directors who meet every month, and have done so for six years, to formulate the Goals and initiate the projects that will bring the vision of a permanent Hawaiian Music Resource Center into reality.
Step 3
"We" are the dedicated and honored performers of our Advisory Board whose musical roots are imbedded in our Islands' unique cultural history; who prepare and present both large and small public concerts of songs telling stories of the Hawaiian people, their loves, their longings, their joys and their beliefs.
Step 4
"We" are the members, school principals, music teachers, professional performers who bring Hawaiian cultural history alive for grade school children by teaching them the songs of Na Lani Eha, (The Royal Four) which identify "Hawai`i" in every country in the world.
Step 5
"We", committed by donations and deeds to the Hawaiian Music Hall of Fame vision, use the phrase E Hi`I poi E na makamaka po`okela to describe what we're up to: creating a new context in which to cherish Hawaiian music, its history and the gifted ones who made it.
Your dedication to preserving Hawai`i's musical legacy through your financial support is the "food" which nurtures our programs. Won't you join with us right now?
Patron of Hawaiian Music Culture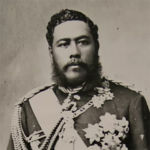 (1836-1891)
The eldest of the four, David Kalakaua, elected King in 1873, is generally regarded as the catalyst for Hawai`i's cultural resurgence in the last half of the 19th century. Considered a "cultured intellectual of unusual mental powers" by his friend, Robert Louis Stevenson, Kalakaua was gifted in many fields from politics and sports to literature and music. King Kalakaua gave his chief patronage to music, from ancient chant to the waltz, and was actively involved in restoring public performance of the hula. The Merry Monarch Hula Festival, presented annually in Hilo, Hawai`i was named in his honor.
Like his sisters and brother, David Kalakaua received much of his early musical training as a student at the Royal School. Primarily a poet and lyricist, his foremost musical legacy was his Hymn to Kamehameha I, set to music by Henry Berger and known today as "Hawai`i Pono`i". It was the national anthem of the Hawaiian Monarchy and is today our State Song.
---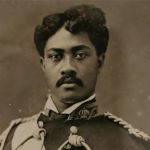 (1854-1877)
The youngest of "The Heavenly Four", Prince Leleiohoku was said by his sister, Lili`uokalani to have a talent for composition "really in advance" of the two princesses. He founded the Kawaihao Singing Club and soon he and his colleagues were winning most of the royal song club competitions. Even outside the family, many claimed that he had one of the purest and sweetest male voices among native Hawaiians. Leleiohoku was considered the most talented of the royal composers. Had he not died of rheumatic fever at age 23, his abundant talent promised that his would have been a brilliant musical career.
His excellent songs are still being sung, among them " Adios Ke Aloha", and "Moani Ke Ala". The melodic line from "Kaua I Ka Huahua`i" was later adopted for the modern "Hawaiian War Chant." Many of his compositions adapted the folk tunes of visiting merchants and sailors, and of foreign settlers to the Islands.
---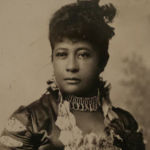 Lydia Kamaka'eha Paki (1838-1917)
Lili`u, as she was known to friends and family, began her formal musical training when she entered the missionary-sponsored Chief's Children's School at age 4. A serious and talented student, Lili`u was able to sight read music at a very early age, according to her autobiography. She was often asked by her teacher to introduce a new song to the class; Lili`u would then sing it by following the notes on the score until the class learned it by ear.
By age 15, Lili`u was already an accomplished musician and composer who could write music and is reported to be the only native Hawaiian composer who could. The earliest of her hundreds of compositions may be "Nani Na Pua" (Flowers of Ko`olau), bearing the signature "L.K. Paki"; her best-known song "Aloha 'Oe" was the first Hawaiian "hit" song outside of the Islands. Lili`uokalani was given to writing complex harmonies and brought the influence of western music to her songs, evident in their melodic line and lyrical quality. She made every effort to have her music published so that it could be available to all. Lili`uokalani was a frequent patron of musical and dramatic events, and competed in song contests with her brothers and sister.
During her two brief years as Hawai`i's last ruling monarch, Queen Lili`uokalani filled her world with musical activity. Many concerts were given at Iolani Palace featuring foreign artists as well as local musicians. As she had been since childhood, she was an active singer as well as director of several song groups.
Lili`uokalani's legacy of some of Hawai`i's most beautiful and memorable songs ever written memorializes her as a Queen who inspired great affection among the Hawaiian people for her gentleness, her graciousness, and for her concern for the welfare of her people.
---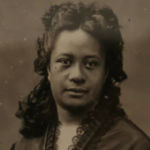 (1851-1887)
Unlike her brothers and sister, Princess Likelike was raised in Hilo, Hawai`i. It was after her return to Honolulu as a teenager, that her musical endeavors began in earnest, encouraged by Kalakaua, Lili`uokalani, Leleiohoku, and later by her husband Archibald S. Cleghorn, whom she married in 1870. With her sister, she led one of the three royal music clubs that held regular friendly competitions to outdo each other in song and poetry.
"`Ainahau", the most famous of Likelike's compositions, was written about the Cleghorn residence in Waikiki, the gathering place for Sunday afternoon musical get-togethers. She wrote most of her compositions there, and supported the musical education of her daughter, Princess Ka`iulani.
Like her sister, Princess Likelike sponsored many concerts and musical pageants in and around Honolulu, and played an important role in the development and perpetuation of Hawaiian music by the encouragement and patronage she gave to young musicians and composers.
---
E Mele Kākou
E Mele Kākou is a music curriculum for 4th and 5th graders focusing on the music of Nā Lani 'Ehā, the Four Royal Ones (Kalākaua, Lili'uokalani, Likelike, and Leleiohōku).
It is a 4-week program in conjunction with the Honolulu Youth Opera Choir (HYOC) headed by Nola Nahulu. Besides learning the music of Nā Lani 'Ehā, the students are taught Hawaiian history, culture, values, bel canto singing, and music theory.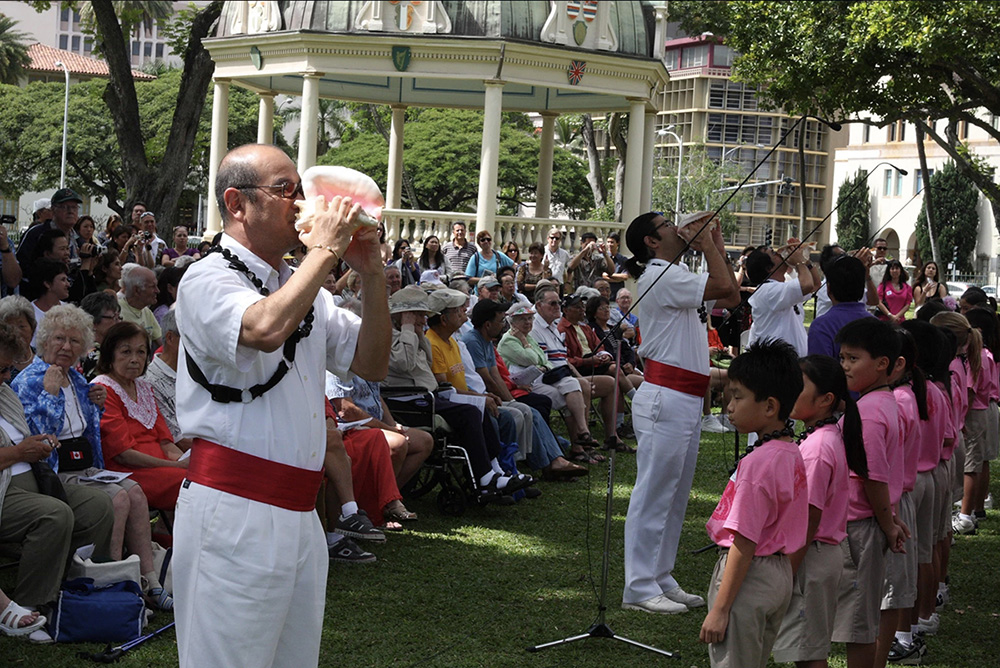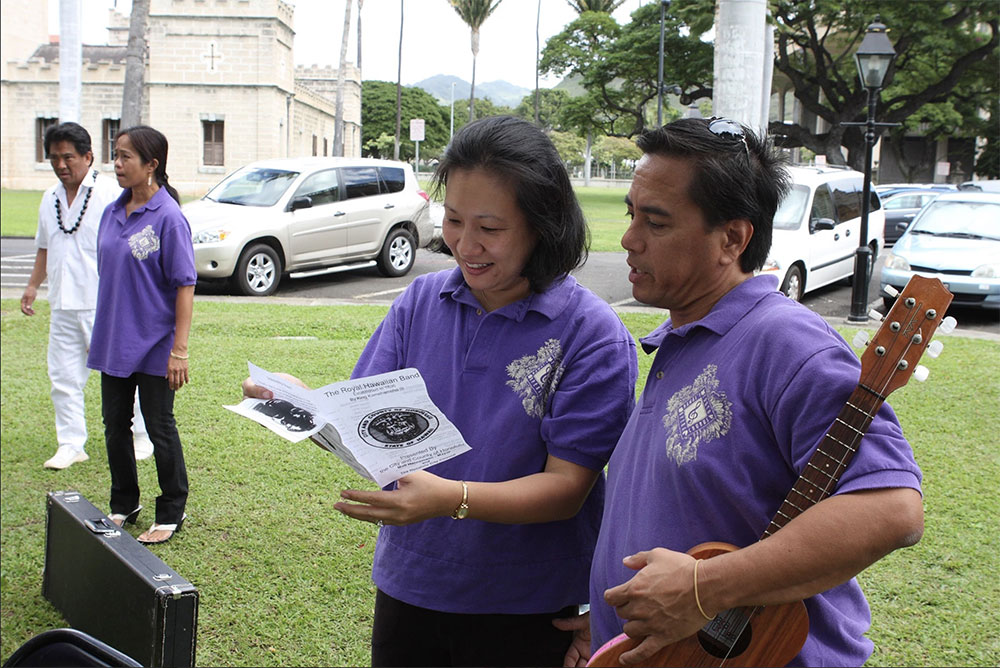 Their program culminates in a performance with the Royal Hawaiian Band at a school assembly. The students also tour 'Iolani Palace where they see where Hawaiian royalty lived and composed music. This program has been ongoing for 15 years.
We are fortunate to receive grant funds from the Friends of Hawaii Charities (the charitable arm of the Sony Open) to help schools in urban at-risk areas to afford the $1,500 matching funds required by the schools to participate in E Mele Kakou.
In 2016, 3 schools were lucky recipients: Ka'iulani, Kalihi, and Royal Elementary Schools.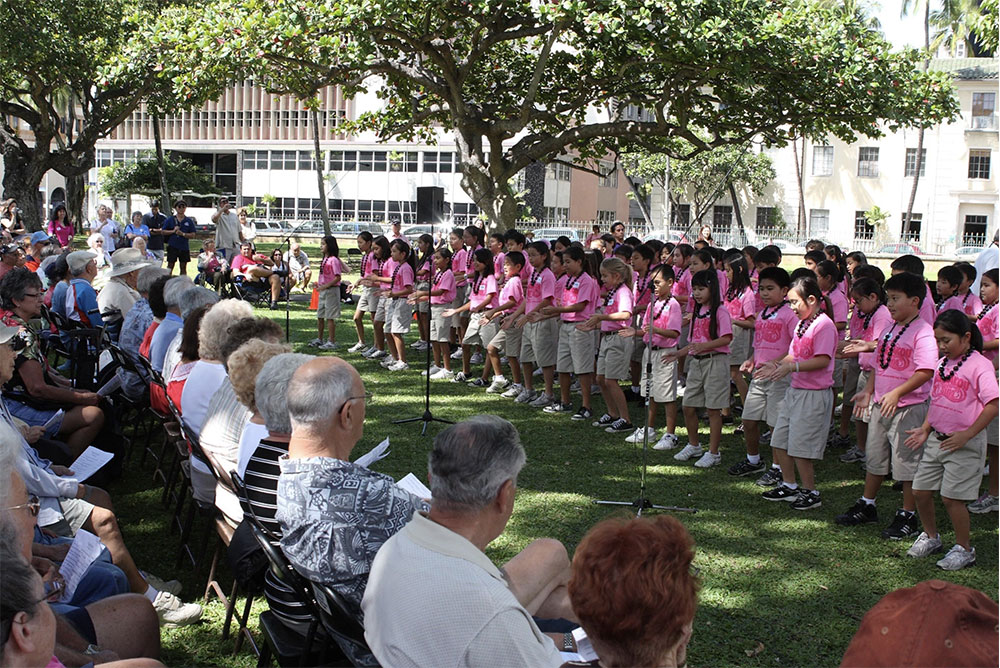 Hall of Fame Board Members
President
Vice President
Secretary
Treasurer
Directors
Danny Akaka, Jr.
Pali Kaaihue
George Kuo
Nola Nahulu
Marsha Schweitzer
Jonah Solatorio
Peter Apo
Gregg Davis
Bobby Hall
Kathleen Pahinui
Advisory Board
Alan Akaka, Chair
Haunani Apoliona
Hokulani Holt-Padilla
Aaron Mahi
Noelani Mahoe
Michael Pili Pang
Mae Klein
Kawika McGuire
Hau'oli Akaka
Artistic Director
Social Media & Website Administrator
Acknowledgments
The Hawaiian Music Hall of Fame, was founded in 1994 in the State of Hawai'i, as a nonprofit educational corporation, federally tax-exempt under IRS code 501(c)(3).
The 1998 Hall of Fame exhibit, is funded with grants from the Cooke Foundation, Ltd., and the Atherton Family Foundation. Martin & MacArthur built our koa exhibits in collaboration with their designer, Richard Towill. The display panels are designed and produced by Robyn Buntin Galleries.
We also wish to thank Bishop Museum, the Hawai'i State Archives, and all the families of our Hall of Fame Honorees for supplying biographical material and photographs for our exhibits.
Mahalo nui loa to the people and their companies who have chosen to sponsor the Hawaiian Music Hall of Fame:
Sustaining Sponsors